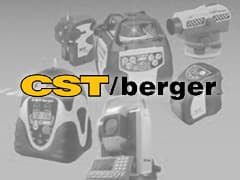 The CST/berger brand (USA) is internationally known as a leader in the field of instrument manufacturing
and tools for leveling and geodetic works.
A wide range of equipment for professional geodetic works.
Laser plumb lines, rotary laser levelers, plane builders, theodolites, rangefinders, metal detectors, curvimeters and other levelling tools
The founder of the company is a native of Stuttgart, Christian Louis Berger (1842). In 1995, C. L. Berger and Sons merged with Chicago Steel Tape (CST) to form CST/berger. In 2004 it became part of The Stanley Works Corporation (USA), and in 2008 the CST/berger company became part of the Bosch Power Tools division.

The high quality of the products is also confirmed by the fact that they have found their application in a number of significant construction projects. For example, during the construction of the Panama Canal, the Empire State Building, the Golden Gate Bridge in San Francisco, the Hoover Dam-CST/berger brand devices and tools were used.

The combination of CST / berger and Bosch produces an exceptional range for consumers, including about 700 system products, and more than 300 measuring tools. A wide range of accessories-from tripods and reflectors to curvimeters-help surveyor technicians all over the world.
Full range of services
From the design of individual units to the modernization of the largest objects, including installation, commissioning and service of the supplied equipment.
Designing

Inspection and receipt of technical specifications, development of feasibility study and documentation. Regulatory support and certification.

Installation

Preparation of assembly kits, installation supervision and turnkey assembly. Preparation of the object to the customer and supervisory structures.

Commissioning

Development and production of control systems, lying of communications, connection, configuration, testing, customer training.

Service

Audit, support and maintenance. Spare parts warehouse and repair with provision of temporary equipment.
Group of Companies Novye Tekhnologii
Sale. Services. Support. Cooperation.