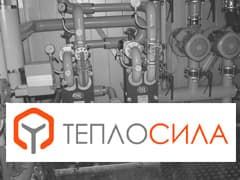 Teplosila Group of Companies (Belarus) offers comprehensive solutions and produces a full line of equipment for the organization of a heating point. Modern developments of our own design bureau, a high-tech production complex that provides a full production cycle, guarantee the efficiency and quality of products.
Plate heat exchangers, differential pressure regulators, control valves, control modules, control cabinets
Teplosila Group has more than 20 years of experience in the production of equipment for heating points. The products are effectively used in Russia, Belarus, Kazakhstan, Mongolia and other countries.

The products of the Heat pump comply with international quality standards, they undergo several stages of technical control, testing in their own laboratory and certification in accordance with the requirements of GOST.

Teplosila Group provides its customers with first-class service, professional service and technical support. Thanks to this, the equipment works efficiently and properly.
Full range of services
From the design of individual units to the modernization of the largest objects, including installation, commissioning and service of the supplied equipment.
Designing

Inspection and receipt of technical specifications, development of feasibility study and documentation. Regulatory support and certification.

Installation

Preparation of assembly kits, installation supervision and turnkey assembly. Preparation of the object to the customer and supervisory structures.

Commissioning

Development and production of control systems, lying of communications, connection, configuration, testing, customer training.

Service

Audit, support and maintenance. Spare parts warehouse and repair with provision of temporary equipment.
Group of Companies Novye Tekhnologii
Sale. Services. Support. Cooperation.