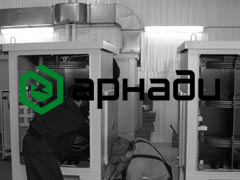 ARNADI Company (Vladimir) is a dynamically developing company that has confidently taken a leading position in the development and production of electrical equipment in Russia and the CIS countries.
Higher harmonic filters, sine filters, complete three-phase filters, neutralizing filters, control stations, chokes, adjustable capacitor units
The entire production complex, which includes several workshops, a developed structure of utility rooms, warehouses, is equipped with the latest innovations of European technological equipment, which allows producing more than 20 thousand units of products per year.

The production technology is constantly being improved, the product quality meets the interstate standards GOST 13109-97. The parameters of the equipment allow us to produce products of high quality and with high accuracy, exceeding the requirements of GOST.

The company's customers can always be sure of the stability of the supply of products carried out by ARNADI - after all, there is always a full range of manufactured electrical equipment available.
Full range of services
From the design of individual units to the modernization of the largest objects, including installation, commissioning and service of the supplied equipment.
Designing

Inspection and receipt of technical specifications, development of feasibility study and documentation. Regulatory support and certification.

Installation

Preparation of assembly kits, installation supervision and turnkey assembly. Preparation of the object to the customer and supervisory structures.

Commissioning

Development and production of control systems, lying of communications, connection, configuration, testing, customer training.

Service

Audit, support and maintenance. Spare parts warehouse and repair with provision of temporary equipment.
Group of Companies Novye Tekhnologii
Sale. Services. Support. Cooperation.