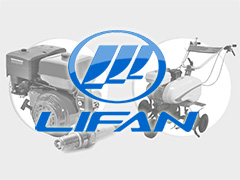 Lifan's main areas of activity are the development, production and sale of automobiles, motorcycles, engines and power equipment. The company has been included in the list of the 500 largest companies in China annually for 7 consecutive years.
Lifan produces gasoline and diesel engines and spare parts for them, tillers, generators, motor pumps.
High-quality materials and high technologies that meet modern standards are used in the production of engines. Thanks to this, Lifan engines occupy a leading position in sales not only in the Chinese, but also in the world market.

In 2014, Lifan significantly modernized its own production. All the main production facilities were transferred to new modern buildings equipped with even more advanced conveyor lines.

Lifan motors are used in a variety of fields of technology. With their help, they lay asphalt, dig a vegetable garden, go hunting and fishing, pump water, mow grass, extract electricity and produce dozens and hundreds of other useful things for a person.
Full range of services
From the design of individual units to the modernization of the largest objects, including installation, commissioning and service of the supplied equipment.
Designing

Inspection and receipt of technical specifications, development of feasibility study and documentation. Regulatory support and certification.

Installation

Preparation of assembly kits, installation supervision and turnkey assembly. Preparation of the object to the customer and supervisory structures.

Commissioning

Development and production of control systems, lying of communications, connection, configuration, testing, customer training.

Service

Audit, support and maintenance. Spare parts warehouse and repair with provision of temporary equipment.
Group of Companies Novye Tekhnologii
Sale. Services. Support. Cooperation.